Flash floods and landslides in central Indonesia have killed at least 30 people, and the death toll looks set to rise, Associated Press (AP) has reported.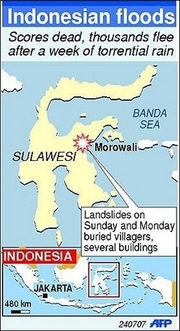 ©AFP
A map showing the island of Sulawesi in Indonesia. Helicopters sought to deliver aid to victims of floods and landslides in central Indonesia Wednesday as 66 people were confirmed dead and 23 listed as missing, officials said.(
A senior health official confirmed the toll, and predicted the number of deaths would rise as rescuers reach remote areas in the disaster zone.
Days of torrential rains have flooded dozens of villages on Sulawesi island, said Rustam Pakaya, head of the health ministry's crisis centre, AP reported.
"Rescuers have found at least 30 bodies,'' he said.
According to AP, emergency supplies such as rice, instant noodles, blankets, and medicine are being distributed to thousands of people who have been forced to flee their homes.