A powerful typhoon hit the southern Japanese island of Okinawa today, pounding them with torrential rains and high winds, and was later expected to head north towards the nation's main islands.
©thewest.com.au
A satellite image shows Typhoon Man-yi off the east coast of Taiwan.
Up to 500mm of rain was expected to fall on some parts of Japan's southernmost main island of Kyushu by tomorrow morning, further battering areas already hit by heavy rains and flooding earlier this week.
Typhoon Man-yi was some 30km south-southwest of the Okinawan city of Naha as of 9am (8am WA time) and moving north at 20kmh, with winds at its centre of 180kmh and gusts of up to 252kmh, Japan's Meteorological Agency said.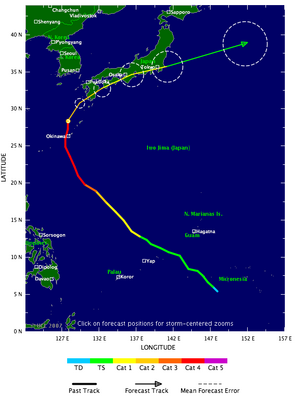 ©TSR
"This storm is moving rather slowly, which means that rain will fall for quite some time, especially in places like Kyushu," an agency official said.
"In fact, rain is the biggest worry with this storm. Given the rain that's already fallen in Kyushu, the chance for damage is very high."
Television footage showed a car on its side in a Naha street and cars plowing through water on a flooded road.
Some 24,000 households in Okinawa had lost power, NHK public television said.
More than 100 flights to and from Okinawa were cancelled.
The storm, classified as a category four typhoon by British-based website Tropical Storm Risk (
www.tropicalstormrisk.com
), was expected to increase the activity of the annual rainy season front and pound much of Japan with heavy rain over an extended holiday weekend.
Kyushu, where one man died earlier this week when he was swept away by a flooded river, braced for more rain and flooding, and nearly 2000 people were advised to evacuate.
The storm could make landfall on Kyushu, though the Meteorological Agency said the possibility was low.
It is currently predicted to come close to Kyushu tomorrow morning before turning eastward and weakening, brushing close to Tokyo on Monday.