The naturally-formed ice Shiva lingam at the holy cave shrine of Amarnath in Jammu and Kashmir has completely melted, Chief Executive Officer of Shree Amarnathji Shrine Board Arun Kumar said on Sunday.
The ice Shiva lingam has melted down owing to the rise in temperature, Kumar, who accompanied Union Home Minister Shivraj Patil to the cave on Sunday, said.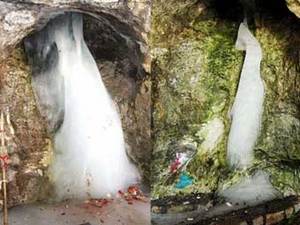 ©AFP
Shiva Lingam. Before and After.
"It is a normal phenomenon. Weather affects the shape and size of the ice Shiva lingam," he said.
However, Kumar said two other ice lingams, representing Ganesh and Parvati, were still existing though in smaller size.
The two-month Amarnath Yatra officially commenced on Sunday.