A storm that rolled through North Idaho Monday night sank a sailboat, blew a hole in a concrete wall and knocked out power to thousands of homes.
Climatologist Cliff Harris said he counted more than 100 hundred lightning strikes during the storm, which lasted two and half hours.
"It was one of the top five thunderstorms since 1990 because of its duration," Harris said. "It was like a war zone."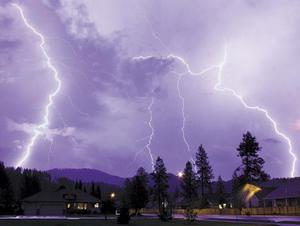 ©Timothy Eberly
Multiple bolts of lightning strike the mountains surrounding Coeur d'Alene on Monday night.
Elizabeth Steve's 27-foot sailboat sank near Blackwell Island after being struck by lightning about 9 p.m.
Steve was in her home around 9 p.m. when the bolt exploded the boat's mast and sparked a fire that burned it to the waterline. The "Skol" had been a part of the family for 25 years.
The massive electrical charge also traveled up power lines to Steve's home and blew out two TVs and damaged several electrical sockets.
"I've never been through such a thunder and lightning storm in my life
," Steve said Tuesday. "We had a lot of good memories on that boat. It's sad."
The Coeur d'Alene Fire Department responded to nearly two dozens calls for service during the storm. Lightning struck homes and businesses causing mostly minor damage, said fire marshal Glenn Lauper. The lightning also reportedly hit a downtown construction crane.
Steve Hughes, owner of a detailing shop on Government Way, said lightning struck a nearby cell tower and jumped to his building, causing structural damage.
"It blew a hole in the concrete wall," Hughes said. "It was pretty crazy. Pieces of concrete are everywhere and our computers and phones are out."
Retired Lt. Col. John Miller, who lives in the Fairway Hills neighborhood, said a bolt hit a tree in his front yard and arced to other trees.
"It peeled the bark off the tree," Miller said. "It's leaning now and I am going to have to take it out."
Avista Utilities reported about 2,000 power outages in North Idaho, including homes east of Coeur d'Alene. Most of the service was restored Monday morning, said Avista spokesman Hugh Imhof.
Kootenai Electric Cooperative had nearly 50 customers who experienced short power outages. The majority were in the Hayden and Chilco areas.
Harris said the thunder and lightning storm only produced one 33rd of an inch of rain.
"We had a couple of big bursts, but there really wasn't a lot of rain," Harris said. "The storm was caused by cool air hitting the departing heat."