NOVOSIBIRSK- Rising water levels on a West Siberian river have hit villages across the region, flooding homes and cutting off roads but causing no casualties, local emergencies officials said Wednesday.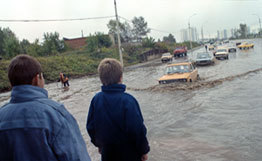 ©RIA Novosti
The hardest hit areas are near the cities of Tomsk and Omsk where 17 villages have been waterlogged.
Emergency services, which are continuing to work in the flood zones, said that those affected by flooding have sufficient food, medicine, fuel, and all essential supplies.