A photograph appearing to show a young Tony Blair making a rude gesture has been published in full for the first time, by the BBC's Newsnight programme.
The photo, of a 21-year-old Mr Blair, has been previously been cropped to show only his head.
The prime minister has described the image as "a picture that I wouldn't mind if I never saw again."
It was found by a Newsnight reporter while researching a student photo of Tory leader David Cameron.
The journalist, Michael Crick, had seen it in full 13 years earlier, but had not been able to film it.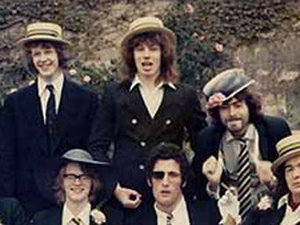 ©BBC
Tony Blair is seen in the back row, second in the middle, gesturing with his hand.
Its owner later released the top half of the picture to the media, but the entire image has not been seen before.
Rock star
Mr Crick returned to it while researching a story on a photograph of Mr Cameron as a member of Oxford's elite Bullingdon dining club.
The picture of Mr Cameron, taken in about 1986, has now been withdrawn by the copyright holders after it appeared in several national newspapers.
The photographers insist they have not been pressured by the Conservative Party into withholding permission to publish it, despite claims it could be used by Cameron's political opponents to attack him.
Newsnight commissioned an artist to recreate the scene it depicts.
The photograph of Mr Blair taken in 1975, shows him, also as a member of an Oxford dining club, apparently making a rude gesture with his hand.
It is also possible he was playing "air guitar" - while a student at St John's College, Oxford, Mr Blair harboured ambitions to be a rock star, playing guitar and singing in a band called Ugly Rumours.
He has spoken about his embarrassment at the cropped version of the photograph in an interview with Oxford university student magazine Isis.
"I am always rather wary about discussing my time at Oxford because it is invariably coupled with a photograph of me with long hair wearing a ridiculous boater - a picture that I wouldn't mind if I never saw again.
"I must have thought I looked cool at the time but I have to admit that's not necessarily how it looks 30 years later."