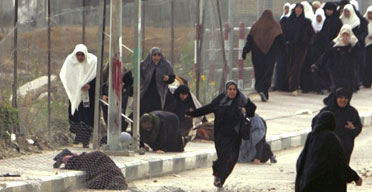 The scene near a mosque in the Gaza town of Beit Hanoun after Israeli troops opened fire on a group of Palestinian women, killing one of them (see here) and injuring 10 others. The mosque had been the scene of an Israeli siege after a group of men, presumed to be armed, took refuge there. Photograph: Suhaib Salem/Reuters
This story should come as no surprise to anyone. Successive Israeli governments have given ample evidence over the past 60 years that, in their opinion, Palestinian life is worth little more than that of the animals that extreme orthodox Jews sacrifice to their destroyer god "Yahweh". Indeed, at least on a symbolic level, the murder of Palestinian men, women and children by Israeli soldiers is seen by Zionists as a similar type of blood offering to the all-too-human "god" that "promised them Palestine" 2,500 years ago.
With such callous disregard for the life of other human beings, what does anyone expect the end result of the manufactured "Middle East crisis" to be, other than the murder of probably millions of innocent people, Arabs and Jews alike, with only the Zionist leaders escaping unscathed, as always.
A Palestinian woman

was killed and another 10 were reported wounded when Israeli forces today opened fire on a group preparing to act as a human shield for "militants" in a Gaza mosque.

Dozens of women were gathering outside the mosque in Beit Hanoun in northern Gaza Strip after an appeal on a local radio station. At least a dozen gunmen had taken refuge in the building after the Israeli army launched its largest Gaza offensive in months in an attempt to stop militants launching rocket attacks on nearby Jewish settlements over the border.

Television pictures showed at least 50 women making their way along a pavement when shots could be heard ringing out. They started to flee in terror and at least two women were left lying on the ground.

Witnesses said one woman, aged about 40, was killed, and 10 others were wounded. The Israeli army said troops spotted two militants hiding in the crowd of women and opened fire.

Israeli tanks and armoured personnel carriers surrounded the building when militants took refuge there after two days of fighting, the Israeli military and Palestinian security officials said. A large group of women protesters went on to gather outside the mosque. An unidentified number of militants escaped while the demonstration was going on, but some remained inside, the Israeli army and Hamas said.

A 22-year-old Palestinian man was also killed in the northern town, which troops seized on Wednesday.

Overnight, the two sides exchanged fire. Troops also threw stun and smoke grenades into the mosque to pressure the gunmen to surrender. Witnesses said an Israeli army bulldozer knocked down an outer wall of the mosque. It was not clear if there were any casualties inside.

Residents said Beit Hanoun, a town of 30,000 people, was effectively under full Israeli control, with a curfew imposed.

The army said it targeted Beit Hanoun because it was a major staging ground for rocket attacks. But Israeli officials have said the takeover of Beit Hanoun was expected to last only a few days and did not signal the start of a wider-scale military offensive in Gaza.

Militants, however, continued to fire rockets at Israeli border communities, including two that landed on Friday. Two Israelis were slightly wounded and a house was damaged in the latest attacks.

In a separate operation last night, an Israeli air strike on a car in Gaza City killed three Hamas fighters, including a local militant commander, witnesses said. An Israeli army spokeswoman confirmed the strike.
In the various news reports on this story, the men that the women were attempting to protect are described as "militants" or "gunmen", yet the Israeli soldiers are only ever referred to as "soldiers". The term "militants" has a clear negative connotation, which has been deliberately fomented by the Israeli propaganda machine over the past few years to the point that it is not synonymous with "terrorist". Palestinians, you see, are not allowed to carry or use guns in defence of their lives. If they do, they are "terrorists". Israeli soldiers, on the other hand, are free to murder and maim at will, safe in the knowledge that they will be lauded as heroes. Why? Because the Israeli government and the controlled Western media says so, and you believe it.
If, however, you retain an essence of your own decency and humanity, you cannot but understand that these Palestinian men are, first and foremost, the fathers, husbands, sons and brothers of the women who attempted to protect them, men who were taking a stand and attempting to halt the ongoing murder of innocent Palestinian civilians that is the hallmark of every Israeli incursion into beleaguered and terrorized Gaza.