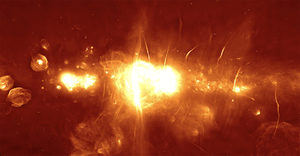 Galactic Center: South Africa's MeerKAT Radio Telescope captured this panorama of the center of the Milky Way. Area approx. 1,000 light-years by 500 light-years
Who controls the past controls the future. Who controls the present controls the past.
- George Orwell
Recent Comments
Life has a way of paying you out. Russia has upwards momentum. The U.S. is racing to disintegration and ruin. About time.
---
What goes on that those Beltway cocktail parties? Spike the punch with rufies, then get kompromat on ALL attendees. My guess is that everybody who...
---
Headline Grammar Nazi time. "hoist IS a past tense word." It is incorrect as 'hoisted' though that's what the original article uses. Re: "hoist...
---
Leviticus chapter 20 1The LORD said to Moses, 2You will also say to the Israelites: Any Israelite or any immigrant living in Israel who gives...
---
It never ceases to amaze me the level of corruption in the Obama / Clinton administration...… They are criminals.... and yet the liberals just...