About jtcarl I abhor dishonesty; I can't stand people who lie for money; I believe respect is something you have to earn; I am skeptical of everybody who is willing to offer information you need, a reason to act, revelation of any sort, or high minded sermons on truth, God, government secrecy, or UFOs, but only if you pay them first; I see no reason to forgive stupidity or arrogance from those who demand a fee unless they are providing some form of entertainment; I do not consider the publication or dissemination of blatant lies as if they were facts to be entertaining unless they are so ridiculous that it makes me laugh; I stopped laughing at UFO stories when I was around 12-years old.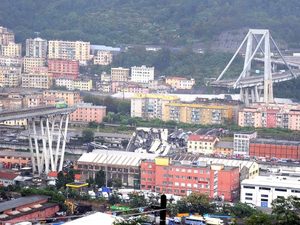 14 August 2018: Morandi Bridge in Genoa, Italy, collapses during a storm, killing 35 people
A man who does not think for himself does not think at all.
- Oscar Wilde
Recent Comments
Thomas Jefferson would not be proud; just as he believed the Mohammedans had no place in America, neither would Satan have a place for worship. It...
---
These crimes have been reported for years, yet I live near a Catholic church and I see people going there every Sunday to hear what these...
---
"Consciousness Creates Matter, NOT the 'other way 'round'. The Seth Material, 1967: "If you sell yourselves short, you will say, 'I am a physical...
---
New heroes of mine: Josh Shapiro and the members of the Pennsylvania Grand Jury! Well done, friends!
---
They probably didn't allow reporters in the Hitler Youth meetings either. :(