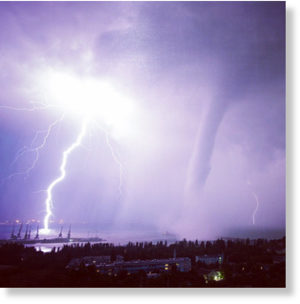 Large waterspout and lightning off Feodosia, Crimea peninsula, Russia. Sept 6th 2018.
Given that China was arguably the leading power in the world from c. 1100-1800, and was certainly the leading power in the East Asian region, one would anticipate that the smaller powers in that region would have balanced against it. But this in fact did not happen. The reply might be in turn that this was because China was the kingpin within the international tribute system, and was therefore an imperialist power. But arguably this system was neither imperialist nor could it be explained through the 'conventional practices' associated with Western great power politics.
- John M. Hobson
Recent Comments
Bullshit... It's not going absolutely nowhere! It's going by absolute Fascist design directly into the pockets of "Elite" Parasitic Predators of...
---
Hey Trumanshow,(Jim Carrey movie?) Over Here!
---
John Cooper Clarke ad nauseum: "Who Stole Bongos Trousers?"....[Link]
---
BE FUDDLED BY TECHNOLOGY Personally, I think Putin is the greatest. And once he acquires more technology, he will be greater still. For we all...
---
OPEN FOR PLUNDER Saudi-Arabia has been opened for plunder. Yemen war is just one way to sell the country extremely expensive arms and soldiers...