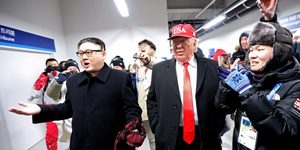 Did The Donald and Rocket Man secretly meet at the Winter Olympics in PyeongChang?
"In keeping silent about evil, in burying it so deep within us that no sign of it appears on the surface, we are implanting it, and it will rise up a thousand fold in the future. When we neither punish nor reproach evildoers, we are not simply protecting their trivial old age, we are thereby ripping the foundations of justice from beneath new generations."
- Aleksandr I. Solzhenitsyn
Recent Comments
which could see and "When it comes to the political and administrative matters in the region, it will be agreed upon with Damascus in the later...
---
America gets what it deserves...and their will be plenty more karmic actions on this War Criminal country
---
Bullying Lesson 101: Lesson 1: Communicate in kind the language of the aggressor - especially when uninvited.
---
'Yankee Dollar' is a personal fav...[Link]
---
Perhaps the CIA hasn't arranged Moon's suicide yet, but as the author says, it will be a cakewalk, and Moon knows it. A peace treaty between North...