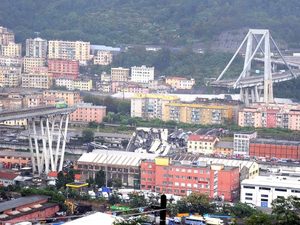 14 August 2018: Morandi Bridge in Genoa, Italy, collapses during a storm, killing 35 people
Shared pain is lessened; shared joy, increased - thus do we refute entropy.
- Spider Robinson
Recent Comments
Greece is already flooded with immigrants and the Germans are planning to send us some more ? WTF !!! ??? :'(
---
I agree with the comment. We are capable for the best and unfortunately the worst. If we could just control the bad side in us we would get along...
---
This is an absolutely superb piece of work, riveting and unrelenting; a must-read . . .
---
Stands to reason. Feds protecting themselves through the courts. Clearing up afterwards. Badly, but by then, it doesn't matter. Nobody can do a...
---
Hi... Because children have mirror neurons or in other words will imitate the behavior of adults nearby they can be acclimatized to ANY...