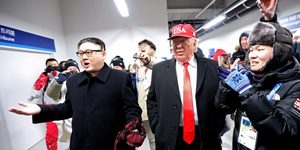 Did The Donald and Rocket Man secretly meet at the Winter Olympics in PyeongChang?
"In keeping silent about evil, in burying it so deep within us that no sign of it appears on the surface, we are implanting it, and it will rise up a thousand fold in the future. When we neither punish nor reproach evildoers, we are not simply protecting their trivial old age, we are thereby ripping the foundations of justice from beneath new generations."
- Aleksandr I. Solzhenitsyn
Recent Comments
So it's an aware thinking cow...Bettcha they wont use this one for Line Breeding.
---
And they say animals do not understand or are aware. Moooove over science, this cow just showed they do. +1
---
I had an experience (without the sex part). I awoke suddenly with the Fedora wearing shadow, nearly up to the ceiling with around 8 "little' bald...
---
Maybe DMT is not mass produced within the pineal gland, but given the location of the pineal gland within the brain, maybe a heroic dose of 25mg...
---
All I know is that we should definitely have self-driving cars before we have flying cars. Otherwise "rush hour" will start to be measured in...