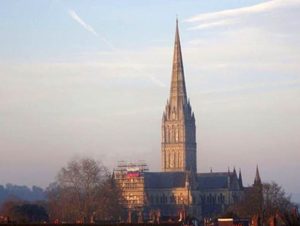 Salisbury Cathedral, 17 February 2019. Did you know? The spire is 123 meters tall, and famous throughout Europe...
The spirit of liberty is the spirit which is not too sure that it is right; the spirit of liberty is the spirit which seeks to understand the minds of other men and women; the spirit of liberty is the spirit which weighs their interests alongside its own without bias; the spirit of liberty remembers that not even a sparrow falls to earth unheeded; the spirit of liberty is the spirit of Him who, near two thousand years ago, taught mankind that lesson it has never learned, but has never quite forgotten; that there may be a kingdom where the least shall be heard and considered side by side with the greatest.
- Judge Learned Hand
Recent Comments
Most artists are prostitutes of TPTB, by their own choice. Like journalists. They do whatever they are told to, for money, fame, drugs, and...
---
The democrats continue to prove to the world how freaking insane they are...…
---
Whatever happened to journalists reporting FACTS that are unbiased, unmanipulated and not being reported for their own agendas.
---
These 25 people affiliated with the MS-13 gang were reportedly coming to the US to work for the democratic re-election efforts.
---
The real truth is the state will charge everyone $250. for the DNA test and then sell it to Bill Gates for his hideous experiments on how he can...