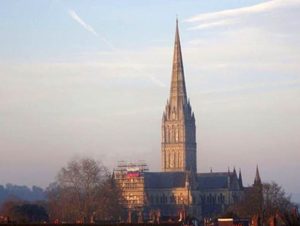 Salisbury Cathedral, 17 February 2019. Did you know? The spire is 123 meters tall, and famous throughout Europe...
When we talk about compassion, we talk in terms of being kind. But compassion is not so much being kind; it is being creative [enough] to wake a person up.
- Chogyam Trungpa Rinpoch
Recent Comments
Flock protection dogs. Very sucessful, as the Germans should know. There should be no conflict between environmentalists and farmers...creating a...
---
Sanctions against Russia. Sanctions against China. Sanctions against Venezuela. Sanctions against Iran and Syria. Sanctions against Europe. The US...
---
What is missing from MMT is an explicit statement on what constitutes intrinsic value. If you like, what is needed to complete Modern Monetary...
---
Masters of war in the age of awakening, go away,we are not that stupid any more. Go away quietly before you are found hanging from a noose.
---
Is it actually the corn she's allergic to, or is it the BT toxin in GMO corn, or the glyphosate in the Round-Up that is sprayed on it? So many...