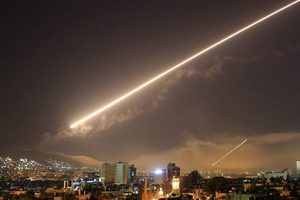 Syrian air defense systems protecting Damascus - the oldest continuously-inhabited city on Earth - from Western airstrikes, 14 April 2018
All truths are easy to understand once they are discovered; the point is to discover them.
- Galileo Galilei
Recent Comments
10 days!?!... in some cities you get more time for jaywalking!... and no fine!!??!!... oh wait, maybe it's because the saw how criminal the Majic...
---
Maybe the RF should now arrest some UK spies and keep them in induced coma until Yulia is set free?
---
Same as when OCSE investigators in Ukraine retreated to Kiev for weeks, instead of investigating MH17.
---
What about Syria?!?!?!.......shame on Trump...shame on the West!!!
---
Thanks! Brilliant! And a spectacular vindication of Lyndon LaRouche and Helga Zepp-LaRouche. I thought Lyndon was a bit nutty, mad conspirator,...