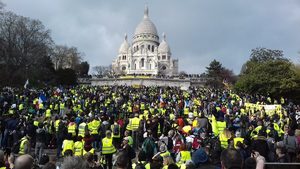 Acte XIX: Sacré-Coeur, Paris, 23 March 2019
There is one thing stronger than all the armies of the world, and that is an idea whose time has come.
- Victor Hugo
Recent Comments
Karma's a bitch like they say, when you are one.
---
....for starters, anyways.....
---
Dear memory of a once vibrant united Yugoslavia. Please enjoy your sliced up land, culture & people of grudging infighting statelets Love,...
---
all human life came from the shore's of lake Carpinteria because humans evolved in the tropical coastal swamp's of this giant fresh water lake
---
Why, and how, are so many Jewish duel citizens in positions at the head of majority Government departments? This question deserves an answer...