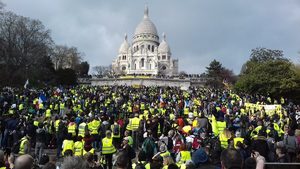 Acte XIX: Sacré-Coeur, Paris, 23 March 2019
Confucius has no interest in falsehood; he did not pretend to be prophet; he claimed no inspiration; he taught no new religion; he used no delusions; flattered not the emperor under whom he lived.
- Voltaire
Recent Comments
1 year suspended sentence. That's responsibility? Like she'll actually pay the 65K euros. CMTSU
---
Meanwhile in Canada - what an exercise for Assange!! [Link]
---
Hahaha what a good PICTURE 😂 LOL karma is so accurate.
---
Julian Assange is right, he is being treated like a prisoner. Most likely at the behest of the United States. The only difference between him and...
---
Half a cheer for Matt Taibi and his indictments of the press. He admits that he is one of the offenders and makes to promises to change his...