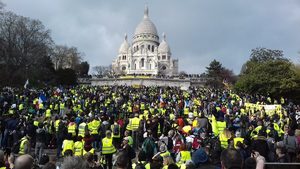 Acte XIX: Sacré-Coeur, Paris, 23 March 2019
Confucius has no interest in falsehood; he did not pretend to be prophet; he claimed no inspiration; he taught no new religion; he used no delusions; flattered not the emperor under whom he lived.
- Voltaire
Recent Comments
The original Glenn Simpson "film script" from 2007 starring Manafort was going to be transposed into a doggy dossier for whoever defeated Clinton...
---
Such made-for-television hit jobs were great for ratings, as well as handsome advertising profits So who were the main brands that were so keen to...
---
Someone paid off the judge, and I think Mr. Rahm I'm-so-outraged Emanuel was in on it. I saw the little self-satisfied smirk when he ended his...
---
So many people think "justice" when they really mean retribution and/or punishment. Long-live vigilantism!
---
I never thought I'd see the day when I agree with Rahm Emanuel on anything. What an upside down world we live in!