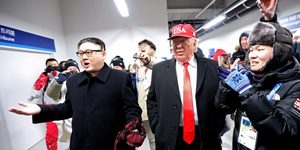 Did The Donald and Rocket Man secretly meet at the Winter Olympics in PyeongChang?
When a man knows he is to be hanged in a fortnight, it concentrates his mind wonderfully.
- Samuel Johnson
Recent Comments
I had a tabby cat who was born with 2 hearts (seriously). They were also upside down. He lived for 26 years & died only because of a freak...
---
This article finishes with saying the North will have to "denuclearize" to win the day and freedom for their country... How would that work? If...
---
It would be interesting to see! Iran has promised to wipe Israel OFF THE face of the earth?? Does Israel FEEL lucky?? "WELL?? DO YA PUNK "???
---
"It seems reasonable to assume that if the number of school or mass casualty shootings in America were replaced by school or mass casualty knife...
---
Isn't this the very same tune that Warren Buffet (or maybe it was Soros?) was singing 15 or so years ago? I seem to remember he went on at some...