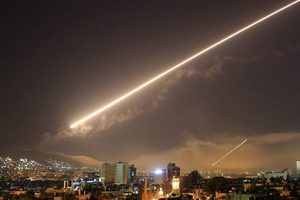 Syrian air defense systems protecting Damascus - the oldest continuously-inhabited city on Earth - from Western airstrikes, 14 April 2018
All truths are easy to understand once they are discovered; the point is to discover them.
- Galileo Galilei
Recent Comments
I've seen one exactly like this in southern california a few years ago.
---
Sender Bearle also beat this drum. Albert Pike ...
---
Wasnt this the premise of a movie, Stealth?
---
Probably too far to be a kite and then it goes out further, unless someone just cut the rope.
---
Why didn't anyone try to shoot it?