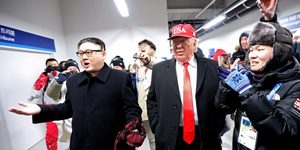 Did The Donald and Rocket Man secretly meet at the Winter Olympics in PyeongChang?
The bourgeois produces the Bolshevist, inevitably as every half-truth at length produces the contradiction of itself in the opposite half-truth.
- D.H. Lawrence
Recent Comments
Out of the frying pan, into the fire.
---
I watched 'a Glitch in the Matrix' on youtube last night. I recommend it. Made by an ex channel 4 technician who knows the insider view - and also...
---
It was the Americans who brought the ISIL to Iraq to have a pretext to return No doubt Al-Hosseini will now be labelled a terrorists and targeted...
---
There's only so much narrative one can squeeze regarding physical external threats to the USA .... (are Venezuelan troops expected to be knocking...
---
Hate changes shape and persists under the sense of self-righteous gratifications. The attack on social cohesion, family and community values and...