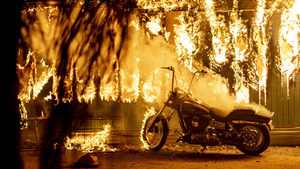 The Woolsey Fire in Malibu, California, November 10, 2018
He who passively accepts evil is as much involved in it as he who helps to perpetrate it. He who accepts evil without protesting against it is really cooperating with it.
- Martin Luther King, Jr.
Recent Comments
We have: The High Frequency Active Auroral Research Program ( HAARP ) is an ionospheric research program jointly funded by the U.S. Air Force, the...
---
A very small part of the whole. The Azores of today were the mountain tops of the larger part of Atlantis.
---
Well, it happened last night before midnight my time (12ish hours ago) so thanks, guys, for the heads-up. :P
---
Two separate issues: • Forest management - nature vs capitalism, usefulness/destruction of wildfires. • Using the known toxic and probable...
---
What's the point of sharing this story, Sott? Because it has "God" in it?