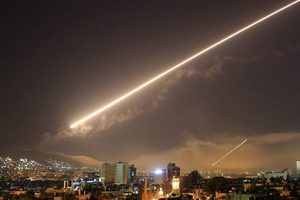 Syrian air defense systems protecting Damascus - the oldest continuously-inhabited city on Earth - from Western airstrikes, 14 April 2018
In the Truth there is no news, and in the News there is no truth
- Popular Russian saying under Soviet Communism
Recent Comments
It certainly reveals the criminal psychopathic nature of the people ruling our world at the moment. It also explains a lot of missing intelligence...
---
Making America's war machine great again! ... I'm sure the police state is enjoying the benefits of trickle down economics with all those war toy...
---
I luckily type from beneath a well over 200 year old Sand Live Oak. I am confident that its survival means far more to the earth than mine. R.C.
---
My God! THIS comes from Foreign Policy magazine? We all know how late to the party this is, but to me, this seems to be a break in the wall of...
---
Even if Assad was a bloodthirsty evil dictator, haven't we learned anything that deposing strong men in the M.E. is a recipe for disaster?...