Little-known military flight area might be cause of noise reports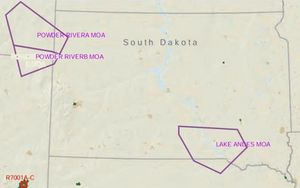 Some Mitchell-area residents were in a state of bewilderment last Saturday night after hearing a loud boom.
Though definitive information is scant, the boom could have been from a jet flying at supersonic speeds through a little-known military operations area.
The boom was heard around 11 p.m. and spawned calls to law enforcement officials in Mitchell and Mount Vernon, who did not determine a cause for the noise.
The National Weather Service office in Sioux Falls reported rain that night, but not much thunder. A lightning strike would be heard as a boom nearby where it hit, but would sound like a rumble from farther away.
Davison County Chief Deputy Steve Harr heard dispatchers discuss calls they received about a big boom. He heard reports of people who heard it in Mitchell, Mount Vernon and five miles northwest of Mount Vernon.
"This was a first for me," Harr said.
The noise may have been a sonic boom created by a jet flying faster than the speed of sound. The speed of sound varies with altitude and temperature, but is about 770 mph. The sonic boom would travel with the aircraft. Because the speed of sound can constantly change, it is possible to unintentionally break it.
The jet may have been flying through the Lake Andes Military Operations Area, an airspace used by the military for simulated air combat and complex missions, and practice maneuvers. It is the only such military operations area in the state, other than a small portion of the Powder River military air space in Montana and Wyoming that juts into South Dakota's northwest corner.