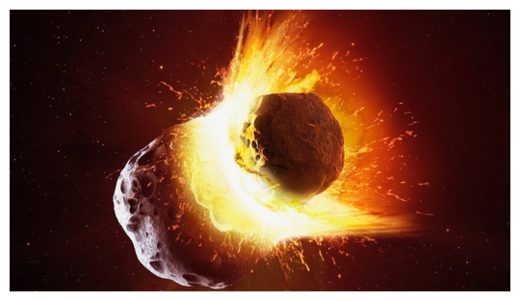 Asteroids are much harder to destroy than previously thought, new modelling shows.
The research,
published
in the journal
Icarus
, shows that an asteroid damaged in a collision - by another asteroid, for instance,
or a nuclear missile fired at it in the blind hope that doing so will prevent it from smacking into the planet with catastrophic consequences - will substantially reconstruct itself because of the strong gravitational pull of its still-intact core.
The modelling, funded by NASA, substantially updates and contradicts
earlier research
that showed that a collision between a small asteroid and a large one would completely demolish the latter, the destruction facilitated by the rapid transit of cracks right through it.
The new study, conducted by Charles El Mir and KT Ramesh, of Johns Hopkins University, US, and Derek Richardson, of the University of Maryland, US, applies more fine-grain analysis and arrives at a distinctly different conclusion.
At issue, fundamentally, is the way rocks react to energetic impacts. This process is well understood at what can be called "laboratory scale", wherein real-world and simulated experiments use rocks roughly the size of a human fist.
But asteroids of a magnitude big enough to worry NASA scientists - or tempt would-be space-miners - are considerably larger than that. They might, indeed, be roughly the size of Berlin.