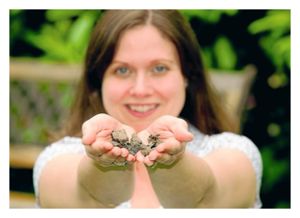 A mother-of-two told how her young children had a lucky escape - after fragments from a meteor shower rained down in their back garden.
Sarah Marston-Jones was playing outside with Harry, two, and Benjamin, four, when asteroid rocks fell behind her house in Shrewsbury.
The teacher heard a large 'whooshing' sound and a 'cracking' noise as 15 rocks from the meteorite shower blazed through the earth's atmosphere and onto her lawn at 9.30am on Tuesday.
She was forced to rush her two young children off their trampoline to safety indoors as brown and black fragments showered down just inches from where they were playing.
The red-hot rocks
, some of which were more than an inch wide, even
left a strong burning smell
in the family's Shropshire garden.