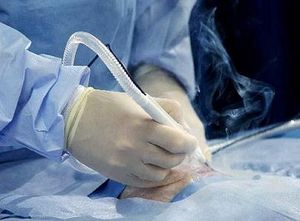 Smoke from tissue-burning tools like lasers can be toxic to surgical team
The surgeon touches an area of exposed flesh with a cauterizing tool for less than a minute, sending up a cloud of noxious smoke that quickly wafts across the room and catches at the eyes and throat.
It is only a demonstration - the flesh is actually raw turkey - but the result illustrates the hazard that doctors, nurses and even patients can be exposed to during operations that employ lasers and other tissue-burning tools.
Known as "plume," the smoke is laden with all manner of potentially toxic substances and disease-causing microbes that can make their way past surgical masks and into the lungs.
"According to one study, exposure to (vapours from) one gram of laser-cut tissue is like smoking three unfiltered cigarettes," said Suzanne Kiraly, president of the Canadian Standards Association (CSA), which on Wednesday released new guidelines for capturing and disposing surgical plume.
"Thus far, researchers have identified more than 600 organic compounds in plume generated by vaporized tissue," Kiraly told a news conference at Women's College Hospital in Toronto, where the demonstration took place.