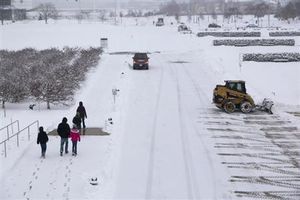 The severe cold weather sweeping across the mid-United States is threatening to curtail booming oil production as it disrupts traffic, strands wells and interrupts drilling and fracking operations.
Weather stations across the U.S. Midwest recorded some of the coldest temperatures in two decades this weekend, with many schools closed and flights delayed. Arctic cold air is also spreading across Texas on Monday with temperatures expected to drop to single digits in the morning.
Output in North Dakota, the second-largest oil producing state, usually ebbs in winter as producers scale back on drilling and well completion services such as fracking, which pumps a slurry of water, sand and chemicals into wells.
But analysts are bracing for a possibly worse than usual impact on output from the state, that could affect operations of companies such as Continental Resources, Marathon Oil and Hess Energy. The companies did not immediately reply to questions about operations on Monday.
"It is so cold that they cannot produce at full capacity, if at all. That should support prices," said Carsten Fritsch, senior oil analyst at Commerzbank in Frankfurt.