Britain should prepare for the worst winter in half-a-century with advanced weather models now predicting months of heavy snowfall, forecasters warned tonight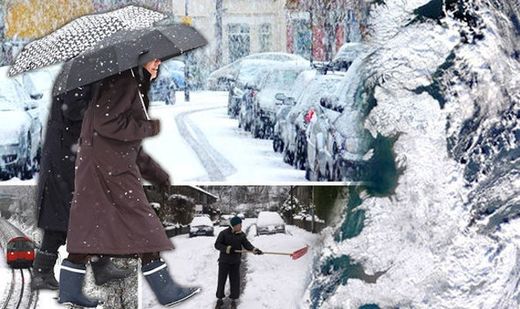 Forecasters have issued early warnings to prepare for sub-zero temperatures and blizzard conditions across the entire UK. A perfect storm of ingredients including the most powerful El Nino on record and changes in air pressure over the Arctic threaten horrendous conditions across Britain. A negative phase of the North Atlantic Oscillation will allow freezing air to pour in from the North Pole. If the cycle continues it will open the gates to the fury of a fully-blown Arctic blast rivalling the record winters of 1962/63 and 1946/47.
Atlantic sea temperatures around the UK have plunged this year meaning any cold weather fronts will be bolstered by the icy waters. Current predictions are also for a negative North Atlantic Oscillation to weaken atmospheric pressure gradient between Iceland and Bermuda. This acts to stifle prevailing westerly winds which in turn forces milder weather southwards over Europe while allowing the cold in from the north.
And a third factor - the Arctic Oscillation - is also threatening to swing into a negative phase bolstering the flow of Arctic air into the UK in a triple-whammy of winter misery. It means heavy and persistent snowfall, Arctic gales and deep snowdrifts threaten to throw the country into chaos from December until MARCH although the earliest snowfall could arrive by early November.
Forecasters are now warning people to prepare for the worst this year with experts fearing thousands could die from the cold. After two mild years they fear the emergency services could be lulled into a false sense of security.
Official figures show that even during the winter of 2013/14 which failed to bring any major whiteout, 18,200 excess deaths were recorded. In 2012/13 the Office of National Statistics recorded 31,000 excess deaths with elderly, unwell and vulnerable people hardest hit.