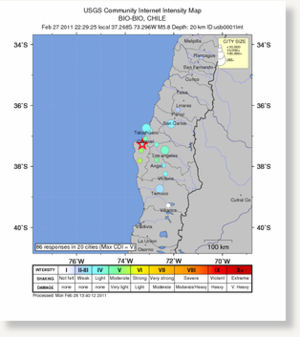 A 6.0 magnitude quake has struck the Bio-Bio region of Chile, exactly one year after a fatal 8.8 magnitude quake devastated the region, according to the U.S. Geological Survey (USGS).
The quake hit 23 miles south of Concepcion and 291 miles south south-west of Santiago at a depth of 10.4 miles. It struck at around 10.30 p.m. local time. There have been no reports of damage or injuries yet.
Earlier in the day, the anniversary of the 2010 earthquake was commemorated, led by President Sebastian Piñera. Across the nation, candles were lit and prayers raised in memory of the dead, according to BBC News. One minute's silence was observed at the precise moment the earthquake had struck.
The February 2010 earthquake was accompanied by a tsunami, killing more than 500 people, and leaving hundreds of thousands more homeless.