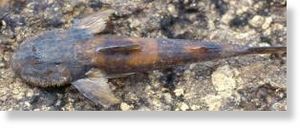 A new species of fish from tropical South America is confirming suspected roots to the loricariid catfish family tree. Lithogenes wahari shares traits with two different families of fish: the bony armor that protects its head and tail, and a grasping pelvic fin that allows it to climb vertical surfaces.
The discovery of both of these characteristics in Lithogenes suggests to ichthyologists Scott Schaefer of the American Museum of Natural History and Francisco Provenzano of the Universidad Central de Venezuela that the common ancestor of the Loricariidae and Astroblepidae probably could grasp and climb rocks with its tail and mouth.
The unusual catfish caught the team's attention twenty years ago in Caracas. An anthropologist working in the remote state of Amazonas collected samples of local foods and brought them to the Instituto de Zoologíca for identification.