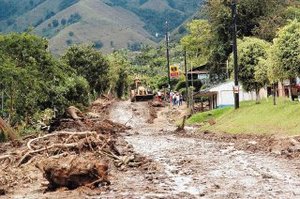 ©La Nacion
Communities of Perez Zeledon are just now regaining road access after Alma.
The effects of tropical storm Alma, the first of the season, are still being felt in the southern zone of Costa Rica where a record amount of destruction occurred along the Interamerican Highway and many families are still without shelter after watching their properties get washed away in the floods. The storm provoked at least 34 landslides that obstructed or destroyed large segments of road trapping some 1,500 people for two days and cutting off the south of the country and access to Panama.
Alma, which is the first tropical depression ever to be born in Costa Rican territory, is said to have caused more damage than hurricanes in the past, including Hurricane Cesar that passed through in 1996 destroying sectors of the same road. More than 8,000 people were left without drinking water or electricity, and the flooding caused nearly $40 million in damages.