LONDON - A giant shrimp living on Australia's Great Barrier Reef can see a world beyond the rainbow that is invisible to other animals, scientists said on Wednesday.
Mantis shrimps, dubbed "thumb splitters" by divers because of their vicious claws, have the most complex eyes in the animal kingdom, capable of seeing colors from the ultraviolet to the infrared, as well as detecting other subtle variations in light.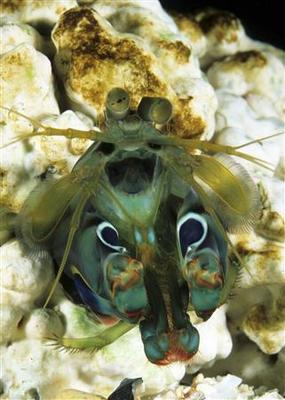 ©REUTERS/Roy Caldwell/Handout
A Mantis shrimp (Gonodactylus smithii) is seen in this undated handout photograph released in London May 14, 2008.