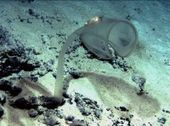 Scientists said Sunday they had uncovered new marine animals in their search of previously unexplored Australian waters, along with a bizarre carnivorous sea squirt and ocean-dwelling spiders.
A joint US-Australian team spent a month in deep waters off the coast of the southern island of Tasmania to "search for life deeper than any previous voyage in Australian waters," lead researcher Ron Thresher said.
What they found were not only species new to science -- including previously undescribed soft corals -- but fresh indications of global warming's threat to the country's unique marine life.