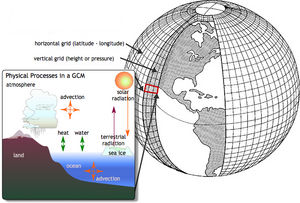 Global Climate Models (GCM's) are very complex computer models containing millions of lines of code, which attempt to model cosmic, atmospheric and oceanic processes that affect the earth's climate. This have been built over the last few decades by groups of very bright scientists, including many of the top climate scientists in the world.
During the 1980s and 1990s, the earth warmed at a faster rate than it did earlier in the century. This led some climate scientists to develop a high degree of confidence in models which predicted accelerated warming, as reflected in IPCC reports. However, during the last decade the accelerated warming trend has slowed or reversed. Many climate scientists have acknowledged this and explained it as "
natural variability
" or "natural variations."
Some believe
that the pause in warming may last as long as 30 years, as recently reported by
The Discovery Channel
.
But just what's causing the cooling is a mystery. Sinking water currents in the north Atlantic Ocean could be sucking heat down into the depths. Or an overabundance of tropical clouds may be reflecting more of the sun's energy than usual back out into space.

"It is possible that a fraction of the most recent rapid warming since the 1970's was due to a free variation in climate," Isaac Held of the National Oceanic and Atmospheric Administration in Princeton, New Jersey wrote in an email to Discovery News. "Suggesting that the warming might possibly slow down or even stagnate for a few years before rapid warming commences again."

Swanson thinks the trend could continue for up to 30 years. But he warned that it's just a hiccup, and that humans' penchant for spewing greenhouse gases will certainly come back to haunt us.