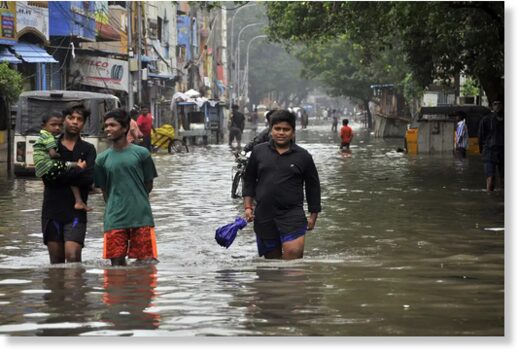 Chennai residents are yet again grappling with waterlogging and floods after incessant rains. Many roads and subways have been closed for traffic, even as surplus water continued to be released from reservoirs.
Traffic diversions were enforced at many places and barricades were put up to caution road users.
While there were disruptions in the state-run local bus services, suburban railway services were unhindered. Vehicles, mostly two-wheelers, were found stranded on several roads covered under sheets of water.
Reservoirs, including Poondi and Chembarambakkam here that cater to the drinking water needs of Chennai, released over 10,500 cusecs of surplus water in view of continuous showers in catchment areas, authorities said.
The release of surplus from Poondi dam in Tiruvallur district was stepped up (from an initial 4,253 cusecs to about 8,000 cusecs) in a phased manner up to about 12,000 cusecs by evening.