Sonar devices on board Naval vessels was today blamed for the death of 26 dolphins who died when they swam up a river in Cornwall.
But initial post-mortem examinations of seven of the animals revealed no clues as to the cause of the mass stranding.
The animals appear to have been well-fed and there were no obvious signs of disease or poisoning.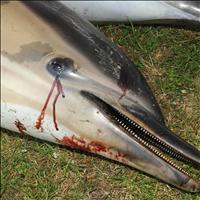 ©MSN
British Divers Marine Life Rescue have suggested that the sonar used by military ships had disorientated the Common dolphins.