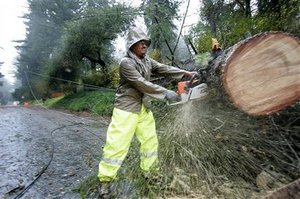 ©AP Photo/Tony Avelar
Tree service worker Ramiro Bautista cuts the remaining tree that fell and on power lines that cut off service to homes in Felton, Calif., Friday, Jan. 4, 2008.
Sacramento, California - Howling winds, pelting rain and heavy snow pummeled California on Friday, toppling trees, flipping big rigs, cutting power to more than a million people and forcing evacuations in mudslide-prone areas.
Flights were grounded and highways closed in Northern California as gusts reached 80 mph during the second wave of an arctic storm that sent trees crashing onto houses, cars and roads. Forecasters expected the storm to dump as much as 10 feet of snow in the Sierra Nevada by Sunday.