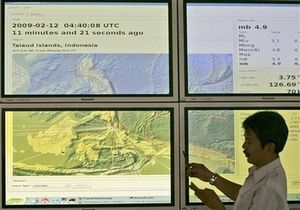 Jakarta - A powerful earthquake off eastern Indonesia briefly triggered a tsunami warning Thursday, causing a stampede of residents to higher ground. Hundreds of building were damaged and at least 42 people were injured, some seriously.
The U.S. Geological Survey said the 7.2-magnitude quake struck at 1:34 a.m. (1734 GMT; 2:34 p.m. Wednesday EST) and was followed by nearly a dozen aftershocks.
The temblor was centered approximately 195 miles (320 kilometers) from Manado, the northernmost city on Sulawesi island, and 12 miles (20 kilometers) beneath the ocean floor.
The Talaud island chain, in waters just south of the Philippines, felt the quake most intensely, said Rustam Pakaya, a government crisis center official, adding that the number of injuries and extent of damage was increasing steadily as rescue workers reached remote areas.