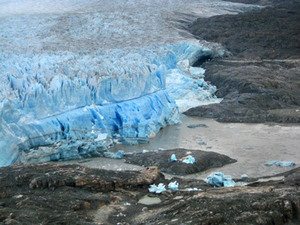 ©AP/ Centro de Estudios Cientificos
Melting ice in southern Chile caused a glacial lake to swell and then empty suddenly, sending a "tsunami" rolling through a river, a scientist said Thursday.
No one was injured in the remote region.
Glacier scientist Gino Casassa said the melting of the Colonia glacier, which he blamed on global warming, filled the Cachet Lake (above) and increased pressure on the ice sheet.