UNITED NATIONS - The United Nations estimates 1.5 million people have been "severely affected" by the cyclone that swept through Myanmar and the United States expressed outrage on Thursday at the delays in allowing in aid.
"We're outraged by the slowness of the response of the government of Burma (Myanmar) to welcome and accept assistance," U.S. Ambassador to the U.N., Zalmay Khalilzad, told reporters.
"It's clear that the government's ability to deal with the situation, which is catastrophic, is limited."

Comment: Hurricane Katrina was also catastrophic, as well as the US government's dealing with that situation.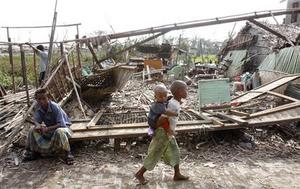 ©REUTERS/Stringer
Survivors are seen at their home, which was destroyed by Cyclone Nargis, near the town of Kyaiklat, southwest of Yangon, May 7, 2008.