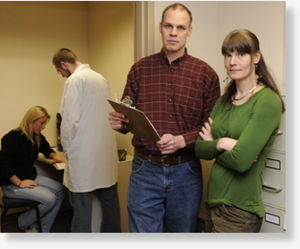 Why would anyone falsely confess to a crime they didn't commit? It seems illogical, but according to
The Innocence Project
, there have been 266 post-conviction DNA exonerations since 1989 -- 25 percent of which involved a false confession.
A new Iowa State University study may shed light on one reason for those false confessions.
In two experiments simulating choices suspects face in police interrogations, undergraduate subjects altered their behavior to confess to illegal activities in order to relieve short-term distress (the proximal consequence) while discounting potential long-term (distal) consequences.
"The thing about these exoneration cases is that they all pertained to heinous crimes; that's why there was DNA evidence available. And so we wanted to determine why someone may be willing to falsely confess to one of those crimes," said Stephanie Madon, an ISU associate professor of psychology and the study's lead author. "We thought it might have to do with the pay-off structure of police interrogations. Some interrogation methods -- like physical isolation and the presentation of false evidence -- have immediate consequences for suspects that encourage them to confess. Though they also face consequences that encourage them to deny guilt -- such as the possibility of conviction and incarceration -- these consequences are more distal.