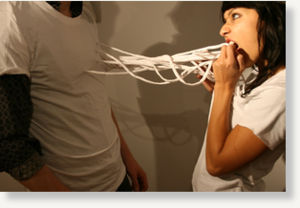 You might think that a loving partner helps keep you on track - say, when you want to stick to your jogging or concentrate on your studies. But a new study in
Psychological Science
, a publication of the Association of Psychological Science, reports the opposite:
Thinking about the support a significant other offers in pursuing goals can undermine the motivation to work toward those goals - and can increase procrastination before getting down to work.
The study's authors, psychological scientists Gráinne M. Fitzsimons of Duke University and Eli J. Finkel of Northwestern University, call this phenomenon
"self-regulatory outsourcing" - the unconscious reliance on someone else to move your goals forward, coupled by a relaxation of your own effort. It happens with friends and family, too.
Does this mean love doesn't bring out the best in us? Yes and no, says Fitzsimons. "If you look just at one goal" in isolation - as the study does - "there can be a negative effect.
But relying on another person also lets you spread your energy across many goals, which can be effective if your partner is helpful."