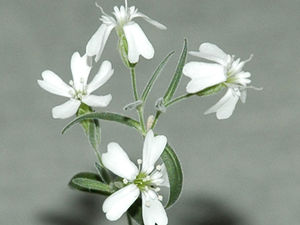 In a discovery that may herald the Jurassic Park-style resurrection of mammoths and sabre-toothed tigers, Russian scientists have grown a plant from the frozen remains of a 32,000-year-old Arctic flower.
The plant is a narrow-leafed campion grown in petri dishes from organic materials pulled from the banks of the Kolyma River in Siberia. Details of the project appear in Tuesday's issue of The Proceedings of the U.S. National Academy of Sciences. It was drafted by a team led by Svetlana Yashina and David Gilichinsky of the Russian Academy of Sciences. Tragically, Mr. Gilichinsky died of a heart attack on Saturday.
The Russian-grown campion is suspected to be the oldest plant ever grown from ancient tissue. If so, it would trounce the previous record held by a date palm grown from a 2,000-year-old seed recovered from Masada, Israel, site of a mass suicide of Jewish rebels in 73 AD.
The Russian-grown campions are extremely similar to their modern-day descendants, although 32,000 years of evolution have given contemporary campions wider, less splayed-out petals.
A long-dead Arctic ground squirrel is credited with unwittingly creating the ancient seed bank.