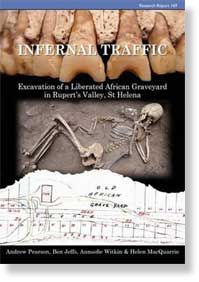 Archaeologists from the University of Bristol have unearthed a unique slave burial ground on the remote South Atlantic island of St Helena. The excavation, which took place in advance of construction of a new airport on the island, has revealed dramatic insights into the victims of the Atlantic slave trade during the notorious Middle Passage.
The tiny island of St Helena, 1,000 miles off the coast of south-west Africa, acted as the landing place for many of the slaves, captured by the Royal Navy during the suppression of the slave trade between 1840 and 1872. During this period a total of around 26,000 freed slaves were brought to the island, most of whom were landed at a depot in Rupert's Bay. The appalling conditions aboard the slave ships meant that many did not survive their journey, whilst Rupert's Valley - arid, shadeless, and always windy - was poorly suited to act as a hospital and refugee camp for such large numbers. At least 5,000 people are likely to have been buried there.
Part of the cemetery was investigated between 2006 and 2008 in advance of a new road that had to pass through Rupert's Valley to provide access to the proposed airport project. Some 325 bodies in a combination of individual, multiple and mass graves were discovered. Only five individuals were buried in coffins: one adolescent and four still- or newborn babies. The remainder had been placed (or thrown) directly into shallow graves, before being hastily covered. In some cases mothers were buried with their presumed children, or sometimes the bodies were so close that there might have been a familial relationship.