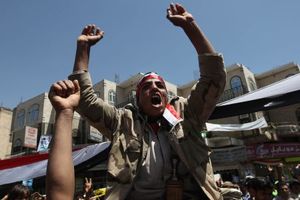 Forces loyal to unpopular Yemeni President Ali Abdullah Saleh have attacked anti-government protest camps south of Sana'a, killing three and injuring over two dozens of people.
"Large groups from the ruling party attacked the protest headquarters with stones and batons, and 25 people were injured including six in critical condition," a protest leader in the town of Ibb, south of the capital, was quoted by Reuters as saying on Sunday.
Meanwhile, opposition forces have called on protesters to continue their anti-government drive.
Mohammed Sabri, a leading member of the Common Forum opposition collation said "the president is a political corpse," AFP reported.
He said the dysfunctional character of his leadership was proven by the ruler's recent refusal to accept a proposal by the opposition and religious figures to give in to a "peaceful transition of power."