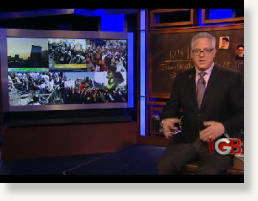 Glenn Beck will no longer have a daily program on Fox News.
According to a joint release from Fox News and Beck's production company, Mercury Radio Arts, Beck "intends to transition" off the program at some point this year.
The release said the afternoon host will not be leaving the network entirely. It said that Fox and Beck's production company plan to "produce a variety of television projects" that will air both on Fox News Channel and other platforms, including Fox News' digital properties.
"Glenn Beck is a powerful communicator, a creative entrepreneur and a true success by anybody's standards," said Fox News chairman and CEO Roger Ailes. "I look forward to continuing to work with him."
Beck said in the release that "America owes a lot to Roger Ailes and Fox News."
"I cannot repay Roger for the lessons I've learned and will continue to learn from him and I look forward to starting this new phase of our partnership," he said.