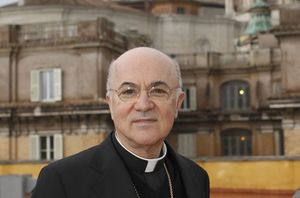 A senior Vatican official who was transferred after he exposed a web of corruption begged to be allowed to continue his crusade and denounced a "vulgar and insolent" cleric behind a plot to destroy him, according to a leaked letter on Friday.
The letter from Archbishop Carlo Maria Vigano, who is now the Vatican's ambassador to Washington, will increase consternation in the Vatican which has been put on the defensive by the growing scandal.
Vigano wrote on May 8, 2011, to Vatican Secretary of State Cardinal Tarcisio Bertone imploring "your eminence to radically change your opinion of me," according to the letter published by the Italian daily
Il Fatto Quotidiano
, one of two news organizations which have been leaked the correspondence
Vigano wrote that letter nearly two months after Bertone, the second-most powerful man in the Vatican after the pope, informed him that he was being removed from his position three years before the scheduled end of his tenure.
Letters broadcast on Wednesday by the investigative program
The Untouchables
on the private television La7 showed Vigano was transferred against his will after complaining to Bertone and Pope Benedict about corruption and mismanagement.