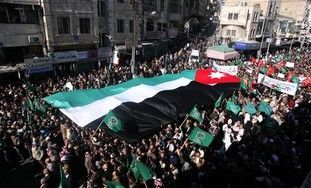 In 3rd day of protests, opposition supporters take to streets in Amman to express anger at rising prices, inflation, unemployment.
Amman, Jordan - Thousands of Jordanian opposition supporters took to the streets Friday in the country's capital demanding the prime minister step down and venting their anger at rising prices, inflation and unemployment.
It was the third consecutive Friday of protests following Muslim prayers in Jordan, inspired by the unrest in Tunisia and rallies in Egypt demanding the downfall of the country's longtime president.