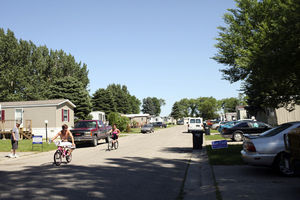 Neighbor: 'I'm never going to light a firecracker again in my life'A 41-year-old father of two was killed when he lit a commercial-grade firework, an explosive that is federally regulated.
Fargo - An eyewitness here says a Fourth of July fireworks accident decapitated a Fargo man Monday night.
Police identified the victim as Jesse William Burley, a 41-year-old father of two, who enjoyed life to its fullest, said Burley's stepfather Chuck Asplin of Fargo.
Chris Hanson, Burley's neighbor who saw the accident, was packing up his car to leave north Fargo's Riviera Heights mobile home park as tornado sirens sounded just before 9:30 p.m.
Burley was getting ready to set off a second round of what Hanson said he believed was either a homemade or illegal artillery shell firework.
"He went over into the middle of the street, and within 10 seconds of us talking to him, he lit it and all we saw was a cloud of smoke, a bang," Hanson said.
What Hanson saw next immediately sent him into shock, he said.
"When I walked up to his body, it was nothing but his shoulders down," Hanson said Tuesday.
Police Lt. Joel Vettel said Tuesday police are confident the device was a commercial-grade firework, which are federally regulated.
The area Bureau of Alcohol, Tobacco, Firearms and Explosives is assisting Fargo police to investigate whether this type of firework was illegal and how it was obtained, Vettel said.