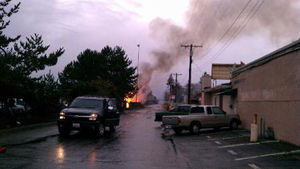 Lakewood, Wash. (USA) - A natural gas explosion Monday at Pierce Transit headquarters rattled nerves, but nobody was hurt.
It happened around 5 p.m. at 3701 96th Street SW in Lakewood.
The fire sparked in a compressed natural gas tank at the back side of the Pierce Transit parking lot, according to Lakewood Fire officials. The facility compresses natural gas fuel for buses, said Lind Simonsen with Pierce Transit. Nobody was close to the explosion when it occured, and nobody was hurt.
The heat was so intense, firefighters were forced to back off to a safe distance to fight the fire, said investigators.
Several witnesses reported an explosion followed by a large column of flames.